WordPress Permalink Plugin
The best WordPress Permalink Plugin that I have used is the "Advanced Permalinks" WordPress Plugin
Note that if you use WordPress 3.0 or higher you can do a lot of what this plugin does already but read this review so you understand permalinks!!
The Advanced Permalinks plugin allows you to create different permalink structures for each post on your site. This is particularly useful when migrating an old permalink structure to a new one.
Pay attention because this is critical:
Right now, if you change the permalink structure for your site (using the permalinks tab under the settings tab of your wordpress admin panel) it changes all the links for all your posts.
So if your posts were originally looking like this:
http://mywebsite.com/2010/07/01/this-is-my-post
and you changed the permalink structure to
http://mywebsite.com/articles
Then not only would your "this-is-my-post" structure like this:
http://mywebsite.com/articles/this-is-my-post
But every post you already had would now have "/articles" instead of "/2010/07/01"
So whats the problem? The problem is that now all the links from the outside world to your posts are lost because the post no longer exists where it used to. And your Website loses a lot of link juice and ranking and your traffic crashes!
So what to do?
Your only choice is to:
A) Never change your permalink structure
or
B) Create 301 redirections for each existing post and change the permalinks for everything.
Actually you have a third cool choice, A WordPress Permalink Plugin to the Rescue!
With the FREE Advanced Permalinks plugin you can configure your site to keep all its existing permalinks, but to use a different permalink structure for new posts.
/2007/05/06/this-is-my-old-post
/reviews/this-is-my-post

No 301 redirections are needed and all incoming links remain exactly the same. Perfect!
Features of Advanced Permalinks:
Create multiple permalink structures for posts
301 redirect old permalinks
Create category-specific permalink structures, whereby posts in a certain category will have a different permalink structure
Remove the requirement to have a category base
Change author permalinks
Allow periods in permalinks – ideal for Website migration
Note that much of the functionality of this plugin can now be achieved using WordPress 3.0 and custom post types.
Installation
The plugin is simple to install:
The best way is thru the Plugin tab, add new sub tab of your wordpress admin menu.
If you don't know how to add or use plugins you can click on this link to read our article on How to use WordPress Plugins.
Configuring the plugin
All configuration is made through the standard WordPress permalinks page. When the plugin is enabled you will see some new sub-menu options:

Advanced post permalinks
To assign a different permalink structure to posts you need to have a start and end ID. These IDs reflects that first and last post that you want the structure to apply to.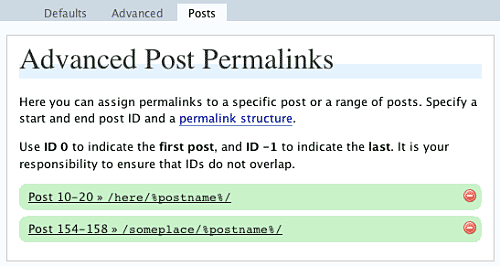 If you want the structure to apply to all existing posts then enter 0 for the start ID, and -1 for the end ID.
If you want to migrate your permalink structure then you would copy the existing permalink structure and apply this to all existing posts. You would then change the default permalink structure.
Category-specific permalinks
Category-specific permalinks allow a permalink structure to be defined for categories. Any post that belongs to that category will appear on the custom permalink. This is useful for separating different areas of your site.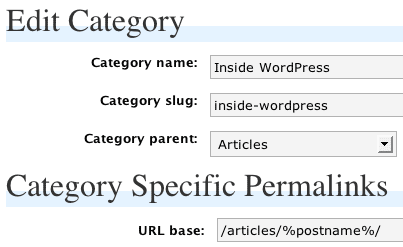 Other permalinks
You can configure author and category permalinks: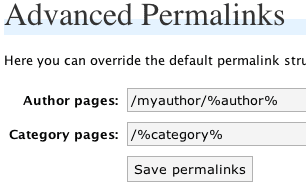 Migration
A migration feature exists which allows you to define old permalink structures that will be redirected to the current permalink structure. You would typically use this if you decided to change your permalink structure, but wanted to have all old permalinks redirected.
Support & Bugs
Support and feature requests should be made through the Advanced Permalinks support forum. Due to time constraints I will no longer answer questions about this plugin myself. You are advised to make use of WordPress 3.0 and custom post types.
We hope you found this WordPress Permalink Plugin article helpful!